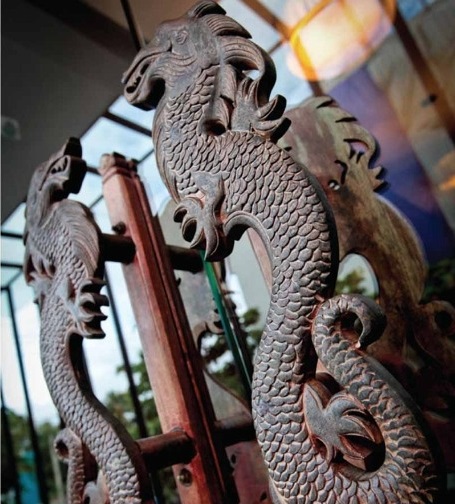 Shanghai terrace is one of the oldest and most reputed restaurants in Sri Lanka. Shanghai Terrace is open daily from 11:30am to 3:00pm for lunch and 6:30pm to 11:00pm for dinner. While striving for perfect customer satisfaction, we also believe offering authentic food that is created specifically for the local palate. We take pride in offering a diverse set of dishes from all provinces of China. Its unique charm and unequalled dedication to the palate of the connoisseur, have earned Shanghai Terrace a reputation of being the very best. We use only the finest ingredients from China. Our seafood and meats are fresh, never frozen, upholding the highest standard of quality.
Set amidst a bustling suburban city, the restaurant captures the hearts of foodies seeking Chinese cuisine that's conveniently located and also of exceptional flavor. Located at 811 Kotte Rd, Sri Jayewardenepura Kotte, we have remained a very consistent dine-in location for many of our returning customers. The charming little terrace on the roof top gives the name Shanghai Terrace, making it the perfect place for lunch, dinner or weekend brunch with family and friends. We have been in business for almost 10 years and strive to remain as the preferred dine-in and take-away choice for many.
With three floors, flushed in varied ambiences, the restaurant can accommodate up to 200 guests. Customers have a variety of dining options to choose from, be it a private party, a VIP meal in confidentiality, a romantic dinner for two or even something as simple as a relaxing repast on the rooftop.
We are the #1 Restaurant in Sri Jayewardenepura Kotte, and also hold the Certificate of Excellence 2016 - 2018 Winner.
Popular for our portion size, our menu is Vegetarian friendly with a reasonable preparation time. Prepared by the expert hands of Master Chef SUN BOUCHAO and Sous Chef LI HONGLING, you can look forward to a truly unique culinary experience, designed to rouse and delight your senses. Parking is available opposite, as well as a paved parking area adjoining the restaurant.
Excellent food and service. Ideal for a family dinner. Located in a convenient location with parking facilities.
Had a very nice evening with the family. Really authenticated Chinese food. You can even book a privet dining room. Freight staff & fast service. Must try them out, if you are in Kotte.
Hot butter cuttlefish was very much the attraction and the mix noodles was superb as well. Courteous staff ! Better reserve a table ! Try the mojitos !
"There is one inexhaustible aspect of everyday life that never dulls - the simple pleasure of eating and drinking" - Zhu Xian